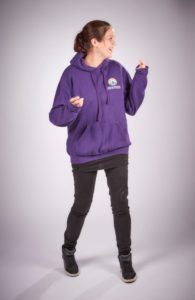 Many people say how lucky I am to work in a field that I love and feel passionate about. I have to say I agree, working with people and supporting them in making real change in their lives and seeing the happiness it brings is so rewarding.
So how did I get this lucky? Like most people I have had ups and downs in my life and faced many challenges and hurdles, which at the time I just didn't think I would overcome, but I did and it has made me the person I am today. I have turned my experience into an opportunity, because these experiences have helped me develop skills that cannot be taught. I have a deep sense of empathy and approach every situation with an open mind. I pride myself in working with people in a non-judgmental way, where every individual feels valued, supported and accepted for who they are. Providing them with a safe environment to explore new ideas and goals, along with being comfortable enough to address situations they feel they may want to change.
With a background working in finance for ten years, in the corporate world, I quickly realised the nine to five life was not the life for me. This drove me to change career, embarking on my journey of working with people and this is where my coaching story began. Being able to work with people, empowering and supporting them, felt so natural to me it didn't even feel like work. I was lucky enough to be able to gain a formal qualification which cemented my coaching future and validated that this was the life for me.
So fast forward nine years, in which time I realised my dream and travelled the world for a year, gaining valuable life experience and a wonderful insight into different people and cultures. Since returning to the UK, I have been working with people with disabilities, in particular acquired brain injuries. Alongside this I also work with high risk offenders and most people in between.
All of this has led me to where I am today, self-employed and doing what I am passionate about and loving every minute. I am in the fortunate position where I keep achieving my goals and dreams so I have to keep thinking up new ones. So let me ask you this, do you think I am lucky or do you think I am enthusiastic, passionate, motivated and someone who has turned adversity on its head and turned it into something positive? Is it luck or it is a choice I made? One which involved a lot of hard work, but one I don't regret for a minute. I can't wait to work with you on making your dream future into a reality.
Emma